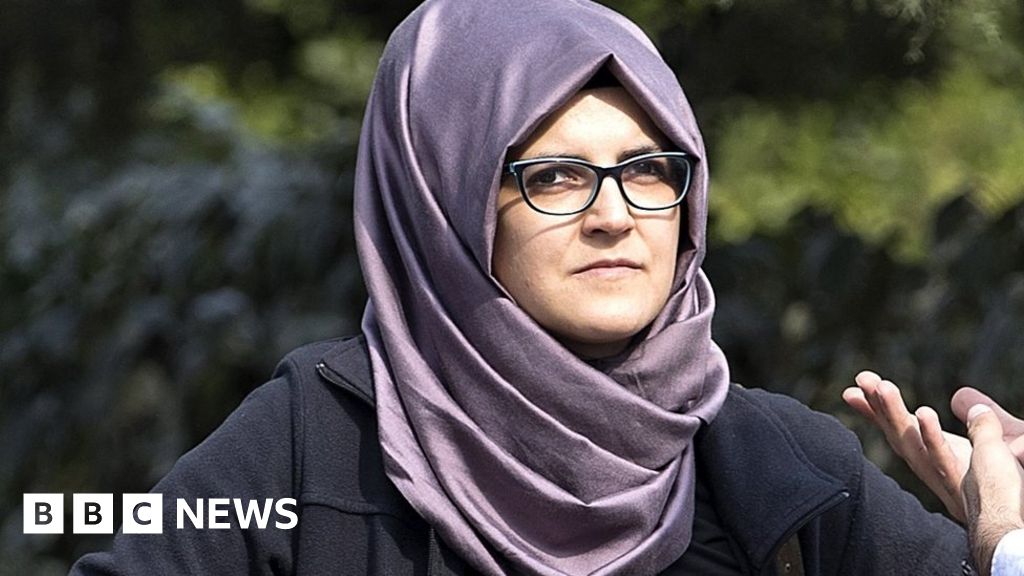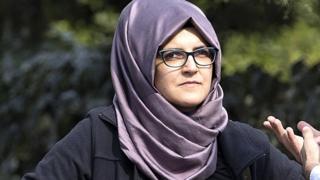 The fiancée of murdered Saudi journalist Jamal Khashoggi says she has declined an invitation to the White House by US President Donald Trump accusing him of not being sincere about investigating the killing.
Hatice Cengiz told Turkish TV she thought the invitation was aimed at influencing public opinion in the US.
Khashoggi was murdered in the Saudi consulate in Istanbul three weeks ago.
Riyadh denies the ruling royal family was involved and blames "rogue agents".
Saudi Arabia initially denied all knowledge of the journalist's fate.
In a New York Times column earlier this month, Ms Cengiz said that if Mr Trump made "a genuine contribution to the efforts to reveal what happened inside the Saudi consulate in Istanbul that day, I will consider accepting his invitation".
Mr Trump has said he is "not satisfied" with the Saudi account, but while he has floated the possibility of imposing sanctions he has also stressed the importance of the two countries' ties.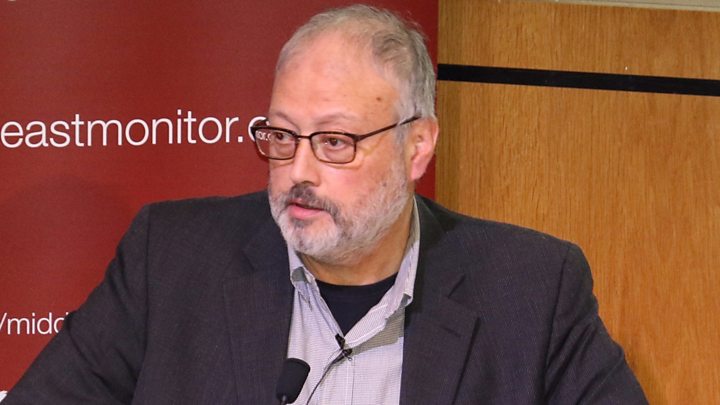 The president also said it was "possible" Crown Prince Mohammed bin Salman did not know about the killing.
Khashoggi had been an outspoken critic of the crown prince, the country's de facto ruler.
How to react?
Most of Saudi Arabia's western allies have expressed shock at the death and demanded a full explanation.
But there is disagreement over how to respond.
While Germany was the first Western country saying it would halt all arms exports to the Gulf nation, France has branded Berlin's move as "demagoguery".
The sale of weapons "has nothing to do with Mr Khashoggi. One shouldn't mix everything up", French President Emanuel Macron said on Friday.
The European Parliament on Thursday passed a nonbinding resolution urging an EU-wide arms embargo on Saudi Arabia in response to the murder.
Russia however said the royal family family should be believed and that ""no-one should have any reasons not to believe them," according Kremlin spokesman Dmitry Peskov.
Where is the body?
In a tearful television interview on Friday, Ms Cengiz recounted the day her fiancé vanished, saying she would never have let her partner enter the consulate if she had thought that the "Saudi Arabia authorities would hatch a plot" to kill him.
"I demand that all those involved in this savagery from the highest to the lowest levels are punished and brought to justice," she told Haberturk TV.
She said she had not been contacted by any Saudi officials but that she was unlikely to go to Saudi Arabia for a funeral should Khashoggi's missing body eventually be found.
Saudi Arabia's public prosecutor is now saying that Khashoggi's murder was "premeditated", and Turkish President Recep Tayyip Erdogan has called on Riyadh to admit who ordered the killing and where the body is.
The US-based writer's eldest son arrived in the US from Saudi Arabia on Thursday, along with his family. The Saudi-US citizen had been barred from leaving Saudi Arabia because of his father's criticism of the country's leadership, but this sanction was recently lifted.